Screenshots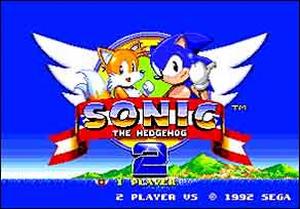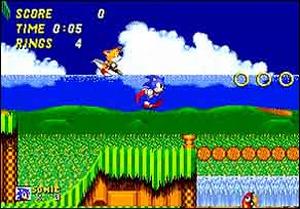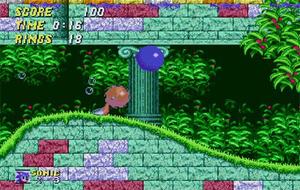 Sonic The Hedgehog 2. The review.
If your looking for the perfect game starring your favourite blue hedgehog this is what you've been searching for. Losing the side scrolling platforming for 3D sonic was a risk SEGA took and has since been regretted. However don't loose your pride of being a SEGA fan because by playing this you willlearn how great this game company actually is.
Being released in 19 this classic game proved itself to be amazingly popular all thanks to a little fella called Miles Prower. "Who?!" you question? A Tiny two-tailed fox with the personality of a child Einstein and the ability to haul Sonic into the air whilst carrying him long distances to reach them 'Hard to get' items.
The storyline of Sonic The Hedgehog 2 is basic but has a slight twist to it. Doctor Eggman, the stereostype badman which so happens to be Sonics arch-enemy, decides to kidnap every animal in the world leaving the blue super speedy and spiked Hedgehog clueless and confusedwhen he returns from his voyage. However he soon witnesses the action took to take his fellow sidekick Tails soon realises Doctor Eggmans plan. Refusing to hand over the Chaos emeralds in return of friends and family, The two mates set off on their journey through 21 beautifully designed as they also refuse a devistating and catastrophic defeat against 7 rather challenging odd bosses.
As I have already stated earlier on in this review, the level designs and pixel artwork of Sonic The Hedgehog 2 is truelly remarkable, making a huge improvement to the first game of the series. The atmosphere changes as you discover new levels as the music, contrast and colours of the worlds dramatically differ from one and over. Compared to the likes of Super Mario Bros. Sonic seems more of a adult game with less charm and more evil added as Sealions meant to kill and not so "Petey" Pirranhas storm the stages as the bite at the two victims. Even though It might not seem child-friendly the way I put it this game will easily replace any kids imaginary friend. Be-gone invisible beings! You won't bewanted anymore...]
Also did I mention there's Multiplayer mode? I didn't?! Well, in multiplayer you can experience a whole new gameplay, from racing against your friends to playing co-op. In co-op one will play as Tails, the other as sonic. Easy huh? Not really. Its hard for tails to keep up with sonic, as he is slightly slower. And sonic may even fall off leaving tails to go ahead by himself. However if you both have the same skills playing as a team shall not be hard! Practice is the key.
Okay, it's conclusion time! Drumroll please. This game is so legendary, I demand that you go out and buy this game. NOW! Or tails will stick you in a tree never to be seen again.
V.I.P





Number of posts

: 10


Age

: 24


Location

: South-East England


Achievement Points

:




Registration date :

2008-04-15



Another brilliant review! Keep that up Ugibah, your quite the retro gamer.




Number of posts

: 54


Age

: 24


Location

: Glasgow.


Achievement Points

:




Registration date :

2008-03-30



Cool.

Yet another great review UgiBah!



Number of posts

: 39


Age

: 24


Location

: England


Achievement Points

:




Registration date :

2008-03-17




---
Permissions in this forum:
You
cannot
reply to topics in this forum